Prešovský dixieland
the best dixieland in Prešov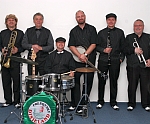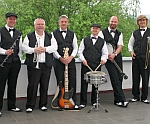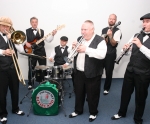 Prešovský dixieland is a group which plays famous, not-so-famous, and for some people, completely unknown traditional jazz numbers. Its fresh but deep roots date back to October 2004. It was then that the six members, each with different musical backgrounds, all got together to revive near-forgotten classics from the Dixieland era. Since that time, the group has been performing regularly at a wide range of cultural and social events.
As the name of the group suggests, its members are all from Prešov and the surrounding area. Such local patriotism doesn't stop the group playing in other towns, though, as gigs in Košice, Banská Bystrica, Trenčín, Liptovský Mikuláš, Trebišov and other towns testify. Prešovský Dixieland are happy to play anywhere where there is interest in the immortal sounds of Dixieland. And just because the group plays at the Slovak Armed Forces club in Prešov, it certainly doesn't mean civilians won't love their music, too. The great thing about Dixieland is how it appeals to people of all ages, races, religions, military ranks and social classes; the music will get your blood flowing and your feet tapping however big or small your bank account!
Hits from the early years of jazz and pop music, classic sounds of the 1920s and 30s, still sound good the world over and successfully resist the ravages of time (as do the band members – see photogallery for proof!). The music might be old, but it never sounds old-fashioned and Prešovský Dixieland enjoy playing it in streets and squares, in clubs and bars, in bandstands and in concert halls. They are happy to meet the needs of their listeners and will add life and colour to all kinds of ceremonies, festivals, weddings (and divorces), funerals, balls, banquets and any other 'bashes'. This is music to listen and dance to.
upcoming gigs

16.10.2021
Stromoradie
19:00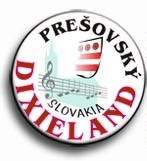 contact
Pavol Papáč
tel: +421 907 902 058
papac.p@centrum.sk

Pavol Adamkovič
tel: +421 915 355 306
adamkovic.pavol@centrum.sk

Antonín Horkel
tel: +421 905 426 459